Testimonials
Fundy Album Builder makes THE most intelligent helper for making unique personalised designs easily repeatable – yes there is a difference! It is the first album designing aid that actually got me randy! It let's you THINK for yourself!
David Anthony WilliamsIndustry leader, speaker and presenter of Alone with David Williams Workshops
Products
Album Builder™
Fundy Album Builder automates elegant layout for you, right in Photoshop where you can retouch on the spot.
More Info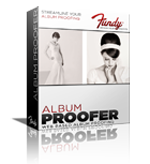 Album Proofer™
Fundy Album Proofer makes feedback simple, and helps you sell albums and get more clients with simple one-click sharing.
More Info

Image Brander™
An easy automated way to save your images for your Blog and Facebook with your logo and a color bar. Protect your images and save time.
More Info
Action-o-Matic™
Get jiggy with your actions. Action-o-matic helps you create custom action mixes, and gives you a better palette and hot-keys for your favorite actions.
More Info
Texturematic™
Do textures the right way, fast and simply. Comes with our exclusive Japan Textures™ to get you started right away.
More Info